SPRINGBANK DISTILLERY
(2017/08/01update)
Information of Springbank Distillery

Region : Campbeltown

Production Status : Active

Owner : J. & A. Mitchell & Co. Ltd.

Address : Campbeltown, Argyll, Scotland. PA28 6ET

Email: info@springbankwhisky.com

Tel : +44-1586-552009 Fax : +44-1586-553232

@
Campbeltown 1919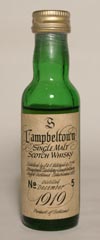 1
@
name
age
vol%
shape
bottle color
proprietors/bottlers
remarks
1
Campbeltown 1919
Single Malt Scotch Whisky
no
shown


no
shown

round
tall
green
J.&A. Mitchell & Co.Ltd.
Limited Edition No.5
distilled 29th Dec. 1919 bottled 1970
Caski no. 715
50years
66.3‹Proof
Only 23 miniature bottles rebottled to in mid-80's

Campbeltown 1952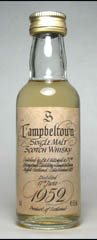 2
@
name
age
vol%
shape
bottle color
proprietors/bottlers
remarks
2
Campbeltown 1952
Single Malt Scotch Whisky
no
age
45.5%
5cl
round
clear
J.&A. Mitchell & Co.Ltd.
Limited Edition No.28
distilled 17/06/1952
Only about 40 bottles were made in 1989

Springbank Official Bottles
Limited Edition
Springbank Limited Edition

Springbank Limited Edition was released from September 1998 to March 2001 from J&A Mitchell&Co.Ltd. This Limited Edition is composed of Springbank 25,30,35,40,45,50 years old.
Each different age has a numbered photograph in the full size bottles' wooden box. Collect and return the 6 photographs to Springbank Distillery, we can be issued with a certificate giving a number to our set along with a complimentary boxed set of 6 miniatures. Springbank Distillery says these miniatures will never be available in any other way.
@
name
age
vol%
shape
bottle color
proprietors/bottlers
remarks
3
Springbank
"Campbeltown Single Malt"
25
years
old
46%
50ml
round
clear
J.&A. Mitchell & Co.Ltd.
Limited Edition
338/580
4
Springbank
"Campbeltown Single Malt"
30
years
old
46%
50ml
round
clear
J.&A. Mitchell & Co.Ltd.
Limited Edition
338/580
5
Springbank
"Campbeltown Single Malt"
35
years
old
46%
50ml
round
clear
J.&A. Mitchell & Co.Ltd.
Limited Edition
338/580
6
Springbank
"Campbeltown Single Malt"
40
years
old
46%
50ml
round
clear
J.&A. Mitchell & Co.Ltd.
Limited Edition
338/580
7
Springbank
"Campbeltown Single Malt"
45
years
old
46%
50ml
round
clear
J.&A. Mitchell & Co.Ltd.
Limited Edition
338/580
8
Springbank
"Campbeltown Single Malt"
50
years
old
46%
50ml
round
clear
J.&A. Mitchell & Co.Ltd.
Limited Edition
338/580
Springbank West Highland
@
name
age
vol%
shape
bottle color
proprietors/bottlers
remarks
9
Springbank
"Plain British Spirit"
no age

37ml
round
clear
J.&A. Mitchell & Co.Ltd.
WestHighland Set
10
Springbank
"WestHighland"
24
years
old
60.7%
50ml
round
clear
J.&A. Mitchell & Co.Ltd.
WestHighland Set
distilled 1966 bottled 1990
Cask no. 441
11
Springbank
"WestHighland"
24
years
old
61.2%
50ml
round
clear
J.&A. Mitchell & Co.Ltd.
WestHighland Set
distilled 1966 bottled 1990
Cask no. 442
12
Springbank
"WestHighland"
24
years
old
58.1%
50ml
round
clear
J.&A. Mitchell & Co.Ltd.
WestHighland Set
distilled 1966 bottled 1990
Cask no. 443
Private Bottling for Distillery Visitors
@
name
age
vol%
shape
bottle color
proprietors/bottlers
remarks
13
Springbank
Single Malt
Scotch Whisky
no age

no shown
round
clear
J.&A. Mitchell & Co.Ltd.
Distillery's private bottling
for Distillery Visitors 2001
14
Springbank
Single Malt
Scotch Whisky
no age

no shown
round
clear
J.&A. Mitchell & Co.Ltd.
Distillery's private bottling
for Distillery Visitors 2002
15
Springbank
Single Malt
Scotch Whisky
no age

no shown
round
clear
J.&A. Mitchell & Co.Ltd.
Distillery's private bottling
for Distillery Visitors 2003
16
Springbank
Single Malt
Scotch Whisky
no age

no shown
round
clear
J.&A. Mitchell & Co.Ltd.
Distillery's private bottling
for Distillery Visitors 2004
17
Springbank
Single Malt
Scotch Whisky
no age

no shown
round
clear
J.&A. Mitchell & Co.Ltd.
Distillery's private bottling
for Distillery Visitors 2005
@
name
age
vol%
shape
bottle color
proprietors/bottlers
remarks
18
Springbank
Single Malt
Scotch Whisky
no age

no shown
round
clear
J.&A. Mitchell & Co.Ltd.
Distillery's private bottling
for Distillery Visitors 2006
19
Springbank
Single Malt
Scotch Whisky
no age

no shown
round
clear
J.&A. Mitchell & Co.Ltd.
Distillery's private bottling
for Distillery Visitors 2007
20
Springbank
Single Malt
Scotch Whisky
no age

no shown
round
clear
J.&A. Mitchell & Co.Ltd.
Distillery's private bottling
for Distillery Visitors 2008
21
Springbank
Single Malt
Scotch Whisky
no age

no shown
round
clear
J.&A. Mitchell & Co.Ltd.
Distillery's private bottling
for Distillery Visitors 2009
22
Springbank
Single Malt
Scotch Whisky
no age
no shown
round
clear
J.&A. Mitchell & Co.Ltd.
Distillery's private bottling
for Distillery Visitors 2010
@
name
age
vol%
shape
bottle color
proprietors/bottlers
remarks
23
Springbank
Single Malt
Scotch Whisky
no age
no shown
round
clear
J.&A. Mitchell & Co.Ltd.
Distillery's private bottling
for Distillery Visitors 2011
24
Springbank
Single Malt
Scotch Whisky
no age
no shown
round
clear
J.&A. Mitchell & Co.Ltd.
Distillery's private bottling
for Distillery Visitors 2012
25
Springbank
Single Malt
Scotch Whisky
no age
no shown
round
clear
J.&A. Mitchell & Co.Ltd.
Distillery's private bottling
for Distillery Visitors 2013
26
Springbank
Single Malt
Scotch Whisky
no age
no shown
round
clear
J.&A. Mitchell & Co.Ltd.
Distillery's private bottling
for Distillery Visitors 2014
27
Springbank
Single Malt
Scotch Whisky
no age
no shown
round
clear
J.&A. Mitchell & Co.Ltd.
Distillery's private bottling
for Distillery Visitors 2015
@
name
age
vol%
shape
bottle color
proprietors/bottlers
remarks
28
Springbank
Single Malt
Scotch Whisky
no age
no shown
round
clear
J.&A. Mitchell & Co.Ltd.
Distillery's private bottling
for Distillery Visitors 2016
29
Springbank
Single Malt
Scotch Whisky
no age
no shown
round
clear
J.&A. Mitchell & Co.Ltd.
Distillery's private bottling
for Distillery Visitors 2017
Springbank Society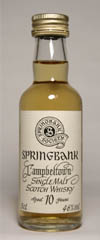 30
@
name
age
vol%
shape
bottle color
proprietors/bottlers
remarks
30
Springbank
Campbeltown Single Malt
Scotch Whisky
10
years old
46%
5cl
round
clear
J.&A. Mitchell & Co.Ltd.
for Springbank Society Members limitedly
---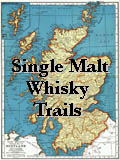 to Malt Whisky Trails top page

to MBG-Home